Departments & Offices
Public Works
Seaside Park Department of Public Works
1201 Barnegat Avenue, Seaside Park, New Jersey 08752
Phone: 732-793-5100
2023 GARBAGE & RECYCLING INFORMATION
2023 Garbage & Recycling Guide
Printed collection schedules will be mailed out in January and are also available at the Borough Hall (1701 North Ocean Ave), Construction Department (313 SW Central Ave – please use 4th Ave side door), Police Station foyer (6th & Central Aves.) and Recycling Yard (14th & Barnegat Aves – in the shed brochure holder). Questions?? Call 732-793-5100 or email ewoj@seasideparknj.org
RECYCLE AT HOME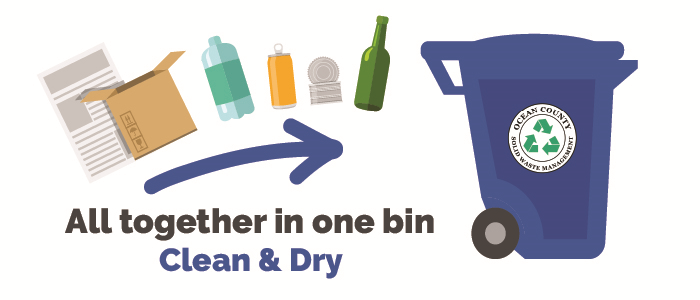 Since 2010, Seaside Park, as part of the Ocean County recycling program has been operating a single stream recycling system in order to collect and process recyclable materials.
Single stream means that all bottles, cans, newspapers, cardboard, junk mail, magazines, and mixed paper can be placed in ONE bin. Once those materials arrive at the Ocean County Materials Recovery Facility (MRF) in Lakewood, sorting equipment (and workers) will separate them from one another so they may be sent to end markets for futher processing/recycling.
---
ACCEPTABLE
PLASTIC #1 #2 & #5
All plastics numbered 1, 2 or 5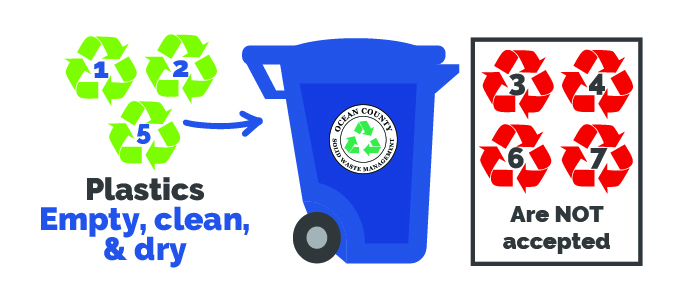 ALUMINUM, STEEL, & TIN.
Cans & Foil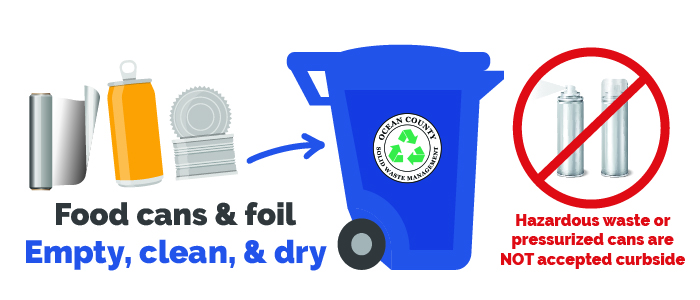 GLASS BOTTLES, JARS, & CONTAINERS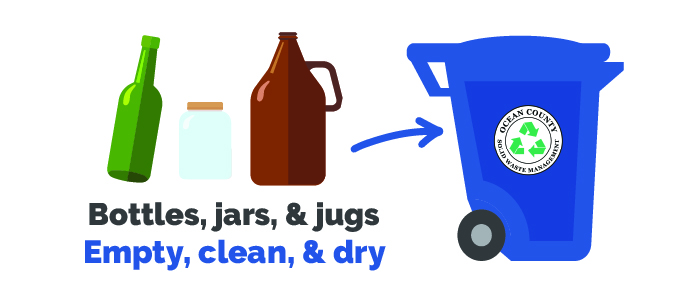 CORRUGATED CARDBOARD BOXES
Look for the waffle pattern, please flatten all boxes and make sure they are clean and dry. Remove the greasy part of pizza boxes.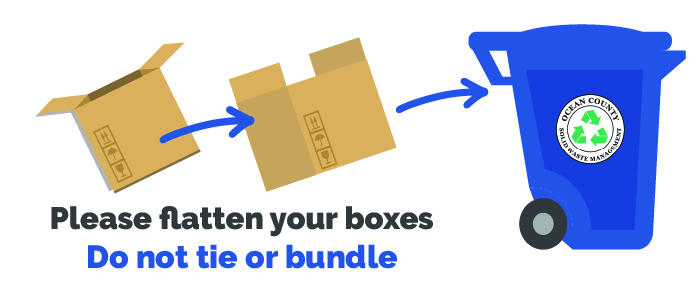 PAPER
Office paper, magazines, cereal boxes, etc.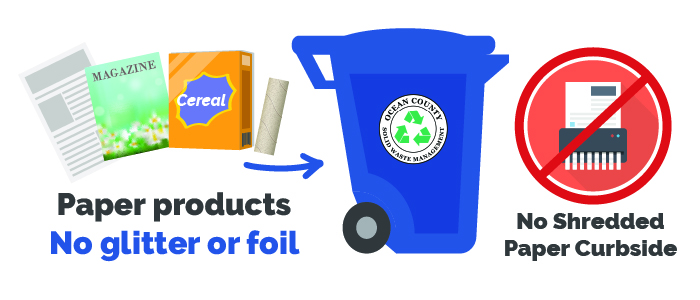 ---
NOT ACCEPTABLE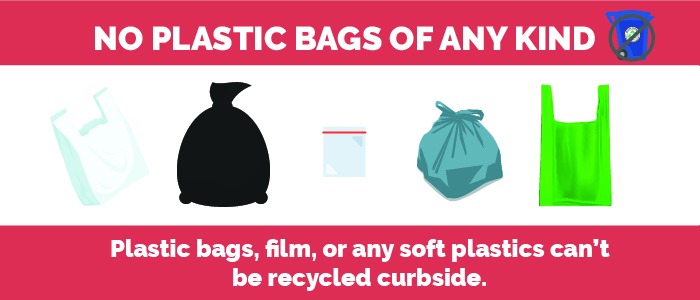 NO bags, shrink wrap, plastic film, etc. — Take these items to bins located at the entrances of grocery stores for proper recycling. find a drop off location HERE: plasticfilmrecycling.org
NO PLASTIC #3 #4 #6 & #7
All plastics numbered 3, 4, 6 or 7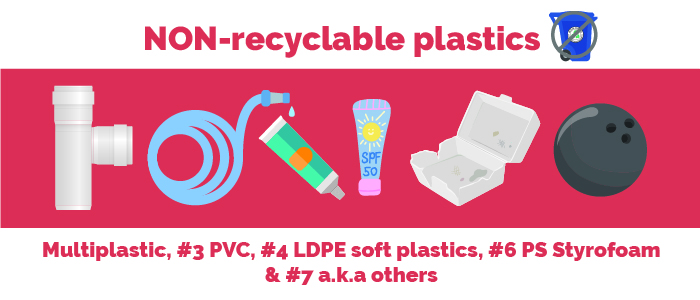 Please wash containers, NO FOOD-CONTAMINATED ITEMS should be placed in your recyclables (soiled pizza boxes, peanut butter jars, etc.)
Plastic utensils, plates & cups (plastic disposable dishware)
CLICK HERE for information on Unconventional Recycling Programs
Garden Hoses & Bowling Balls — believe it or not we see a ton of both of these items 🙂
Plastic flower or shrubbery pots (Home Depot and Lowes both accept them at their Garden Centers)
PVC pipes/tubing, plastic & metal drums, 5-gallon water bottles.
Styrofoam


BULKY METAL/SCRAP

Scrap Metal


Cooking pots and pans.
SERVEWARE, WINDOWS, MIRRORS, CERAMIC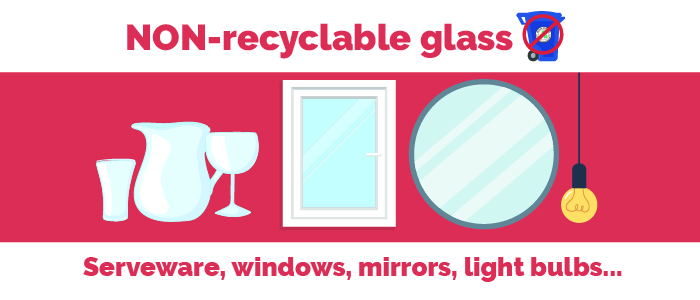 Dinnerware or glassware, window glass, mirrors, ceramic containers, ceramic knick knacks, Pyrex dishes or cookware. Donate these items to Habitat for Humanity, Goodwill, another local thrift store.
WAXED COATED OR CONTAMINATED PAPER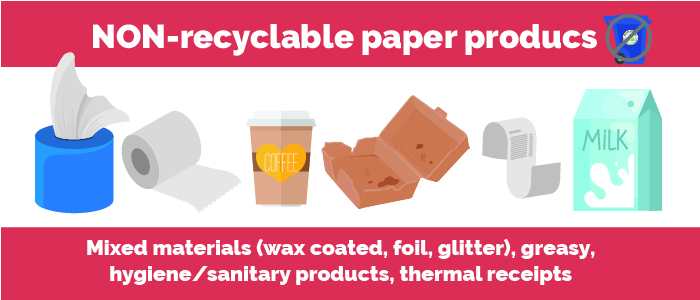 Please NO SHREDDED PAPER (may be brought to special drop-off areas at both recycling centers)
Aseptic Packaging (ice cream or juice containers, milk cartons, waxed paper or waxed cardboard cartons & food containers)
Telephone Books (may be brought to special drop-off areas at both recycling centers)
Please do NOT tie or bundle any materials (paper, cardboard, etc.)
---
HOW TO RECYCLE/DISPOSE OF OTHER ITEMS:
BATTERIES— Automotive and rechargeable batteries only of all sizes should be taken to the Recycling Center and placed in the proper container located in the "Environmental Drop-Off Shed." All alkaline batteries such as AA, AAA, C, D, 9V and 6V may be thrown out with your regular trash. They are no longer recycled. Batteries containing Lithium such as watch and hearing aid batteries should be held for Household Hazardous Waste Disposal Events held by the Ocean County Department of Solid Waste Management. Visit www.co.ocean.nj.us/recycle for more info.
BRUSH, TREE LIMBS, CHRISTMAS TREES—brush should be cut & placed in bundles not more than three (3) feet long or fifty (50) lbs. in weight, and placed at the curb next to your regular garbage. It will be collected separately after your trash collection. No stumps or brush with a diameter greater than 4 inches. Christmas trees will be picked up after your garbage in January and are also accepted at the Recycling Center during January only. Please do not bring brush to the recycling center.
BULK TRASH—Items such as appliances, furniture, large console TV's, carpets, bikes, tires, small amounts of concrete, stumps and other large items can only be collected if the required $10.00 per item fee is paid in advance and a "BULK TRASH PERMIT" is attached to the item. Permits can be purchased at the Construction Dept. at 313 SW Central Ave (use 4th Ave side), Monday – Friday, 8AM to 3PM. Call 732-250-7569 to schedule a bulk pickup. Bulk trash items will be collected town wide on Tuesdays during the winter collection schedule and on Thursdays during the summer collection schedule. Please see the calendar on reverse side.
CFL LIGHTBULBS & FLUORESCENT TUBES – CFL bulbs & fluorescent tubes may be brought to the Northern or Southern Ocean County Recycling Centers. Please visit www.co.ocean.nj.us/recycle for more info. Please do not bring them to the Seaside Park Recycling Center.
CONSTRUCTION & DEMOLITION DEBRIS—The removal of construction, demolition, or remodeling debris is the responsibility of the contractor or property owner and will not be collected by the Borough. Do not bring construction debris to the Recycling Center.
ELECTRONIC EQUIPMENT – Computers, monitors, televisions, VCR's, printers, fax machines, radios, laptops, & telephones can all be brought to the Recycling Center and placed in the designated area. Or, call the Public Works Department at 732-250-7560 to schedule a pickup. By law—TV's, computers, monitors, and printers/faxes CANNOT be placed in your regular garbage. Select items can also be brought to the Ocean County Recycling Center.
GRASS CLIPPINGS— Those with lawns are encouraged to "Cut it and Leave It." Grass clippings are a natural fertilizer and leaving them on the lawn can save you time, money, and can give you a better looking lawn. Otherwise, please bag and dispose of with your regular trash.
HOUSEHOLD HAZARDOUS WASTE—including stains, wood preservative, solvents, gasoline, fire extinguishers, propane tanks, items containing mercury, pool chemicals and pesticides should be held for an Ocean County sponsored Household Hazardous Waste collection event. These items cannot be collected with your regular garbage and cannot be accepted at the Recycling Center. For more information on the Household Hazardous Waste collection schedule please visit www.co.ocean.nj.us/recycle. DO NOT BRING THESE ITEMS TO THE RECYCLING YARD OR PUBLIC WORKS!
LEAVES— Please call the Public Works Department to schedule a FREE pickup of bagged leaves. We encourage you to compost your leaves for mulch. Information about backyard composting is available upon request. Please, no grass clippings or other vegetative waste.
MOTOR OIL, OIL FILTERS & ANTIFREEZE—can be brought to the Recycling Center in capped containers only (gallon or half gallon detergent bottles work well). Please place these containers and oil filters in the "Environmental Drop-Off Shed" DO NOT DUMP OIL OR ANTIFREEZE IN THE SHED—LEAVE IN THE CONTAINER PLEASE!! Used motor oil can also be taken to service stations displaying a "USED OIL RECYCLING" sign.
PAINT CANS—(FULL & EMPTY) – Residents of Ocean County may drop off unused paint and empty paint cans at the Public Works Department building, located at 1201 Barnegat Avenue, Seaside Park NJ 08752, from 8:00 AM to 3:00 PM, Monday through Friday ONLY. Please call 732-250-7560 to schedule a drop off. Paint will not be accepted from businesses such as paint contractors. This program is for latex, oil, and boat paint only. NO stains, spray paint, wood preservatives or any other hazardous waste. DO NOT BRING PAINT OR PAINT CANS TO THE RECYCLING YARD! No other materials are accepted. Spray paint as well as full & empty paint cans may be taken to the Northern or Southern Ocean County Recycling Centers. Please visit www.co.ocean.nj.us/recycle under the "special waste drop off" tab.
RIGID PLASTICS— The Ocean County Northern & Southern Recycling Centers accept rigid plastics such as buckets, plastic toys, milk crates, lawn furniture, empty garbage cans, etc. All metal must be removed. For a complete list please visit www.co.ocean.nj.us/recycle. Seaside Park will also accept these items at Public Works. Please call 732-250-7560 to schedule a pickup or drop off of select rigid plastics.
TELEPHONE BOOKS—should be taken to the Recycling Center and placed in the blue barrel labeled "Phone Books".
SHREDDED PAPER – bagged and tied shredded white office paper only can be brought to the recycling yard and placed in the white "Shredded Paper" bin next to the shed. Do NOT place shredded paper in your curbside single stream container or the recycling yard single stream containers! Do not shred newspapers or garbage – white office paper only!
SMOKE DETECTORS— please contact the manufacturer of the smoke detector for proper recycling. Do not bring them to the recycling yard or DPW!
WEEDS & OTHER YARD WASTE – should be disposed of with your regular garbage.